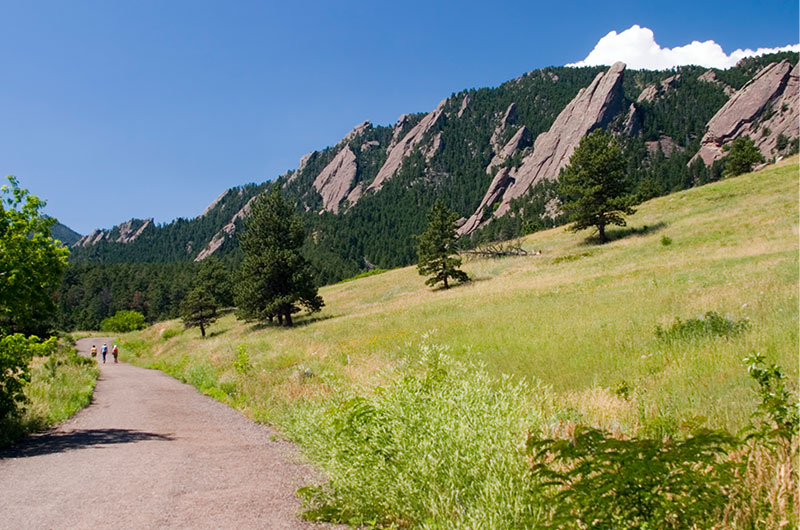 Welcome to the vibrant and picturesque community of Boulder, Colorado, where natural beauty and urban living harmoniously converge. Nestled against the stunning backdrop of the iconic Flatirons, Boulder captures hearts with its unique blend of outdoor adventure, cultural richness, and sustainable living. Surrounded by miles of hiking and biking trails, residents can explore the local mountains or meander along the serene Boulder Creek Path. With unmistakable charm and beauty, Boulder's architecture seamlessly integrates with its natural surroundings. Quaint neighborhoods boast charming homes, while the city's historic downtown area offers a mix of boutique shops, lively cafes, and art galleries.
Home to the prestigious University of Colorado Boulder, this city boasts a dynamic and intellectually stimulating environment. The university contributes to Boulder's reputation as a center for innovation, research, and cutting-edge technology. Looking for a lifestyle of sustainability and wellness? Boulder has an emphasis on farm-to-table dining and easy access to many different modalities of wellness including yoga and meditation. Explore the bustling farmers' market where you can find fresh, locally sourced produce and artisanal goods. Savor the flavors of a diverse culinary scene that caters to any dietary preference, from vegan to gourmet, all while supporting sustainable practices. Boulder is also an active, eco-conscious, and inclusive community. Residents take pride in fostering an inclusive and open-minded environment, where everyone is encouraged to thrive. Engage in local events, join clubs, and connect with neighbors who share your passions. The spirit of collaboration and camaraderie is palpable, making Boulder feel like a welcoming and supportive home. Consistently ranking among the nation's greenest cities, residents embrace alternative transportation options, practice energy efficiency, and actively participate in recycling and composting programs. The city's dedication to a greener future is evident in every corner.
In Boulder, life is a fusion of adventure, culture, and community. Embrace the spirit of exploration, engage with like-minded individuals, and revel in the stunning landscapes that frame your everyday experiences. Whether you seek outdoor thrills, intellectual stimulation, artistic expression, or a supportive community, Boulder invites you to make it your home and embark on a life enriched by all it has to offer.

Sorry we are experiencing system issues. Please try again.